Caleb Lind
Senior Pastor
Caleb and his wife Kayla have been married since 2006 and have two sons and a little girl. As a family they love to be active, play games, eat great food and spend time with people.
Caleb has been in ministry since 2005 and has served the Kingdom of God in various ways throughout that time.
He and Kayla both completed Bachelors Degrees at Friends University, KS where they were involved in athletics and music. After college, they moved to Texas where Caleb completed a Masters of Divinity at Baylor University.
From Texas, they moved to the Kansas City metro area and served at a great, little church for 5 years. They joined the ministry at FBC Norfolk in October 2015 and have been greatly blessed and encouraged during their time here.
Their hope for this church family is that they will be a bright light for God's Kingdom and allow the Gospel to flow out of their lives, bringing healing and hope to our community and our world. May it be so!
Roberto & Rosa Arreguin
Roberto and his wife Rosa are two of the hardest working people we know. Besides their full time jobs at Northeast College they work part time cleaning FBC. Rosa & Roberto have two married daughters and a son, Robbie, and 4 grandkids.

Jonathan Montalvo
Worship Leader
First Baptist is so blessed to have Jonathan on our team. Many members of his family have been integral members of the FBC church family and the Latino Ministry for many years. In February 2018, Jonathan joined us in an official capacity to lead our worship through music. Jonathan has an Associates Degree in Music, training in leading worship from Marcos Witt and is currently pursuing an additional Associates in Studio Recording. While Jonathan brings an incredible amount of musical talent and energy into our times of corporate worship, it pales in comparison to the heart that he has to live for and lift up the name of Jesus.

Kelly Parnell
Administrative Assistant
Kelly has worked at FBC since April 2004. Before that she was an elementary school teacher for 22 years.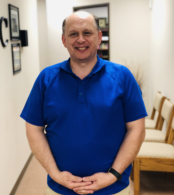 Jeff Borer
Missions Team Lead
Jeff has been apart of FBC most his life and he loves this community. He has a passion to share and show the Gospel through word and service. He is the type a man who will always be there when you need him and he has a huge heart for people! You will often see him playing or watching sports. enjoying time time with friends and family making people life.